Parenting is not an easy job. Parents have to arrange all the things for their kids, from their food to dropping them off at school and picking them up from school etc. All-day revolves around work and your children. Many parents left their jobs and careers for their kids because it's not easy to provide all the facilities and securities all the time. So, one of the parents often puts their dreams on hold to provide protection and ensure they live a healthy lifestyle. How GPS watch can improve the safety of children?
Now, there is no need to worry and thanks to new technology, we have a wristwatch that is the solution to your main problem. You can send your kids freely to schools and playgrounds without any security or concern issues. Many GPS wristwatches have the following features that make it extra efficient.
Features of many GPS Wristwatches:
1. Audio and video call:
You can be in touch with your child anytime with audio and video call. The wristwatch has the ability to make a video call with clarity. This feature also enables the parents to see the child's surroundings to ensure they're in a safe environment.
2. Limited contact list:
You can add the few and safe numbers on the wrist contact list. Add only parents and family member's numbers so in case of an emergency. Parent or guardian is in complete control of the GPS watch contacts list by using the mobile app.
3. Real-time tracking:
Using the mobile app parents/guardians can request GPS location on demand with one touch. Or, parents can set the GPS to update every 1,5,15,30, or 60 minutes. In this way, you will be satisfied and be sure that your kid is safe, and the watch is also working efficiently.
4. Camera:
It has a normal camera that supported video calls and other filters. Your kid can take hundreds of pictures that will also display on your attached phones.
5. Location history:
This feature is one of the best features of this watch. The watch has all the history of today. You can check where your kids have gone throughout the entire day.
6. SOS Panic button:
If your kid is not comfortable with the environment or feels like there is a threat, he can press the Panic button. Immediately, you will get a phone call and alarm notification. It will also send you the time and location of your child.
7. Listen-in feature:
It has a listen-in feature as well. You can listen to the conversation of your kid. With this feature, parents can check in on the child without the child receiving any notification or indication that the listen-in feature has been activated or is currently in use. Parents can use the feature to ensure their child is in a safe environment.
8. Games:
Not all but some of the GPS watch can also allow kids to play games. All these games are safe and educational. As a parent, you can also control the gaming feature and only allow a few games to be played during specific times of the day, so it isn't a distraction.
9. Calendar:
You can add your own calendar for example; parents can set the child's complete daily schedule for the entire week, month and even year. The scheduler normally includes daily routines such as time to brush your teeth, do homework, and bedtime. The feature sends an alert reminder to the GPS wristwatch so the child will be notified once its time to do the activity.
So, these are the main features that make this wristwatch worth purchasing. Now describe the reasons of how a GPS watch can enhance the security of children in public places.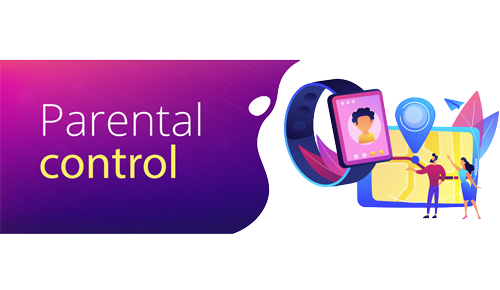 Reasons how a GPS watch can enhance the security of children in public places:
1. It's a GSM mobile phone:
Most of the wristwatch support GSM networks such as At&t and T-Mobile. So you can stay connected with your kid with audio and video calls. Moreover, you can send voice and text message as well. You can also limit the contact list; for example, add the numbers of family members, police and ambulance, etc.
2. You can make Virtual Fences (Safe Zones):
It has a strong GPS system, so you can draw a security radius and when your child crosses the virtual fence, you will get alert instantly via mobile app.
3. Get real-time GPS location:
The GPS Watch will keep you updated with the current location of your kid. Many devices offer on-demand GPS location with a single push button in the mobile app. Parents also have the option to set GPS intervals as to when the GPS watch will auto-refresh the GPS to preserve battery life. Now, you can relax and enjoy your spare time.
4. You can record the activities:
The watch has another ability and that is to record the time as well as the activity of your kid. The pedometer works like a physical tracking system that will count the total steps, jumps, and laps the child has taken throughout the day.
5. Take pictures:
The wristwatch has an active camera that enables the child to take pictures and add filters as well. Parents can activate the camera on some devices and take a picture to see the child's surroundings, which can help with locating a lost child.
6. The panic button will send you alert:
Moreover, if your child finds themselves in an awkward place where he is having negative vibes, or feels uncomfortable or stuck in a bad situation, they can push the SOS panic button. This will immediately alert you and take immediate action.
Conclusion:
GPS wristwatch is the best way to provide security to your kid with full freedom. It has many other features like games, trackers, camera, calling and many more. Your kid will be feeling safe and secure after wearing this amazing wristwatch. It comes in many designs and styles. Give a trendy look to your kid as well and give them the confidence to live free.